Dedicated to supporting women and providing opportunities to connect with each other, TuesdayNights kicked off 2018 with the Networking & Female Founder Panel at Bloomingdale's in Santa Monica on February 20th, 2018.
To celebrate the Lunar New Year and provide WBEs opportunities to connect and learn, WBEC-West LunarNew Year Strategy Power Breakfast was held on February 22nd at Ocean Seafood Restaurant. While enjoying delicious dim sum and the Lunar New Year atmosphere in Chinatown, the WBEs exchanged ideas with each other on how women owned businesses could utilize their advantages and overcome challenges.
On September 16th, Mount Saint Mary's University's Center for the Advancement of Women held their 2017 Women's Leadership Conference at their Chalon campus. More than 400 professional women and rising leaders, and 40 speakers attended the conference.
The very first event of Fulfillment Fund's new program, Career Accelerator Program, was held on August 18th, 2017, at one of Fulfillment Fund's supporters, Creative Artists Agency (CAA).
Following its successful launch at Bloomingdale's, Women, Wine & Wisdom was back for another sold-out panel and mixer at Red Bull's headquarters in Santa Monica on July 27th, 2017.
Presented by the Fulfillment Fund Leadership Council and hosted by Julie Chang and Shira Lazar, the exclusive food and drink tasting event featured some of the most renowned chefs, restaurants, wineries, and beverage makers in Los Angeles.
To help students understand what it takes to be successful in and after college, and provide information about scholarships and internships, the Fulfillment Fund held its 5th Annual Fulfillment Fund University at California Science Center on June 30, 2017.
We would like to extend our congratulations to our dear friend Diane Reichenberger, Vice President of Consumer Products Global Strategy at Mattel, who received the "Philanthropist of the Year" award.
On June 27, 2017, SCMSDC's MBEIC launched "Breakfast with Champions", a quarterly speaker series that features a guest presenter and networking session, at American Honda Motor Co. Headquarters in Torrance, California.
To recognize and honor outstanding businesswomen who have made significant achievements and contributions to their organizations, industries, and the Los Angeles community, the LA Business Journal held its 25th Annual 2017 Women's Summit and Awards at JW Marriot LA Live on June 23rd, 2017.
On June 2nd, 2017, we honored and celebrated the legacy of Step Up Women's Network at the 14thAnnual Step Up Inspiration Awards, held at The Beverly Hilton Hotel.
To illuminate the opportunities the organization provides and raise funds to maximize its impact on students, the Fulfillment Fund held its 4th Inspiration Breakfast at Mr. C Beverly Hills on May 25, 2017.
To celebrate the achievements of Asian American women, and to provide an opportunity to learn from successful female businesswomen, the Asian Business Association, Los Angeles ("ABA LA") held its annual Women Business Pioneers Symposium at The Millennium Biltmore Hotel on May 18, 2017.
The Women, Wine and Wisdom series celebrated its launch in Santa Monica with a networking mixer and panel on May 11th, 2017 at Bloomingdale's Santa Monica. The panel discussion, moderated by Stacey, focused on "The Ambitious Woman" and explored the art of being confident, fearless, tactful, and assertive.
We are honored to announce that our Founder and Principal Lindy Huang Werges has been nominated for two LA Business Journal's 25th Annual Women's Summit & Awards 2017: Philanthropist of the Year and Business Owner / CEO of the Year.
Held on May 10th, 2017 at A&E Networks | Lifetime, the event featured a fantastic panel consisting of: Valerie Mosley, Chairwoman of Valmo Ventures; Michelle Blondin-Hershey, Marketing Manager, Demand Generation at LinkedIn; and Melinda Moore, President of Moore Media Ventures, Co-Founder of Tuesdaynights, and Creator of DRIVEN.
Held at The Eli and Edythe Broad Stage at the Santa Monica Performing Arts Center on April 27, 2017, The Songs of Our Lives concert, now in its ninth year, gathered and celebrated iconic songwriters and singers on one stage.
With more women than ever starting their own businesses and changing the game, Tuesdaynights has invited four outstanding female entrepreneurs to share their journey and insights with fellow female executives and entrepreneurs.
As an agency that is committed to the success of small business enterprises owned by Women, Minorities, LGBTQ, Veterans and Disabled Veterans, the California Public Utilities Commission ("CPUC") held the CPUC | Joint Utilities Los Angeles Business Expo on May 3, 2017 at Skirball Cultural Center.
Many Fulfillment Fund Scholars will be the first in their family to attend college. But what happens after they graduate from college?
On April 6th, 2017, we had the distinct honor of hosting our first MBE 2 MBE Open House with SCMSDC at our offices. With over 60 attendees and Corporate representatives from Toyota USA, Douglas Emmett, and Messner Reeves LLP, the event provided an invaluable opportunity…
On March 23, 2017, hundreds of college students and representatives from the corporate, nonprofit, political and educational fields, as well as wellness experts such as Gwyneth Paltrow and Mallika Chopra, participated in the public release of the report at Skirball Cultural Center.
With the mission to connect corporations and diverse businesses, the two-day conference was packed with educational workshops and panel discussions led by industry leaders, and included an exhibit fair that featured corporate and MBE exhibitors.
The third annual Heart Series Conference gathered an incredible lineup of socially and environmentally conscious companies and individuals, for an important conversation about bettering the world for the good of humanity.
Held on March 1, 2017 LA Clippers Season Ticket Holders' Club in Staples Center, the NBA All-Star 2018 Los Angeles Supplier Diversity Tip-Off was an invaluable opportunity for local Los Angeles businesses to learn how they can provide goods and services as diverse suppliers at NBA All-Star 2018.
At the first Tuesdaynights event of the year, Kimberly Fowler, Founder of YAS Fitness Center, shared her journey and inspiration behind creating "Yoga for Athletes."
Held on February 2, 2017 at City Club Los Angeles, the WBEC-West Breakfast Panel Discussion provided WBEs with the wonderful opportunity to learn how they can both adapt to and drive change, as well as leverage leadership skills to overcome challenges.
To highlight the incredible depth and breadth of the LA tech industry and to connect top hiring tech companies with talented Angelenos, LA Mayor Eric Garcetti and the City's Entrepreneur in Residence Jason Nazar organized and co-hosted TechFair Los Angeles…
The Western New Year's Day might be over and many of us might have made a list of New Year's resolution already, but Lunar New Year is just approaching, with a myriad of festive celebrations still ahead of us. As business-savvy entrepreneurs, what better way is there to end the Lunar New Year than to network into the new year?
Held on 11-13 January at The Venetian Hotel, Las Vegas, the Summit was an inspiring call for a new majority that will ignite the future through inclusion and partnerships.
At The Rescue Train's second annual Hair of the Dog fundraiser, multiple wine companies and conscious businesses participated to raise funds to rescue dogs and cats.
Tis' the season for joyous celebration and merry festivity, but also a great time to give back and do good!
Held on November 29, 2016 at the Commissary at Sony Pictures Entertainment, the Fulfillment Fund Holiday Celebration gathered over 100 people from across its Board of Directors, the Scholar Bridge Network staff, and supporters of the organization.
Last week, we had the honor of attending CBS's Supplier Diversity Networking Event at their Studio Center, its eighth annual event in connecting diverse suppliers with key purchasing decision-makers within the CBS organization…
There is a myriad of reasons why we might be unhappy with our lives, and all of them seem to be originating from longing and discontent: we long to have more time, more money, more love; we are discontent with our jobs, our living situation, our relationships.
Held at Greenberg Glusker's offices in Century City on November 15, 2016, Fashion Your Network featured businesses including Sprinkles Cupcakes, Lucy B's Apothecary, and  Beauty Blender.
Entrepreneurs often face the challenge of making key business decisions by themselves. Due to the small scale of their businesses, many might feel the lack of resources keenly and believe they have to come up with ways to advance  their businesses alone.
Held at the stylish Greenhouse at Platform LA on October 27, 2016, the third TEDxOlympicBlvdWomen saw hundreds of professional women gathering as a community for an important conversation about female leadership…
What's a good way to start the day? How about joining a group of philanthropic women for a power breakfast with Step Up?
On October 15, 2016, the Fulfillment Fund celebrated their 20th annual Destination College event at the University of California, Los Angeles (UCLA). Attended by more than 2,000 students and gathering representatives from 79 colleges…
On October 4, 2016, the Southern California Minority Supplier Development Council (SCMSDC) hosted its annual Leadership Excellence Awards gala at the prestigious Dorothy Chandler Pavilion in Downtown Los Angeles.
Last evening at The Hollywood Athletic Club was memorable and inspirational for many reasons. What makes the Damn Gala by the True Colors Fund so special is the unified effort by all the participants to support the nonprofit's mission to end homelessness among LGBT youth across America.
Held at the stylish and modern Trunk Club in Los Angeles, Tuesdaynights featured five workshops that focused on inner and outer beauty.
Sponsored by U.S. Bank, the Awards Banquet was a celebration of ABA's 40 years of success and dedication to creating business opportunities for the Asian American communities in Los Angeles.
Around Fall each year, you can expect to see groups after groups of excited middle and high school students touring college campuses. On October 15, 2016, however, you will see a group of young scholars who are more thrilled than anyone…
To the girls (and guys) "who just wanna have fun,"  join Cyndi Lauper and the True Colors Fund at the Damn Gala for an unforgettable evening!
WBEC-West has striven to develop and foster outstanding Women Business Enterprises (WBEs) by creating a network of dedicated and educated women business owners.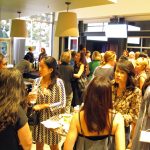 On August 31, 2016, Tuesdaynights hosted yet another successful bi-monthly gathering at the Google office in Venice. Sponsored by Google…
We are honored to announce that Integritas Resources, Inc. has been nominated for the first time as the Women's Business Enterprise (WBE)…
"What would you do if you weren't afraid to fail?" What is your answer this question?