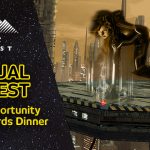 We are honored to announce that Integritas Resources, Inc. has been nominated for the first time as the Women's Business Enterprise (WBE) Supplier of the Year at the 13th Annual WBEC-West Strategic Procurement Opportunity Conference. We would like to extend our thanks to Ken Ashford from Metropolitan Water District of Southern California, who nominated us for the award.
The nomination comes at a great time, as we have just completed our first WBE recertification and received our WOSB certification. We have also completed the Platinum Supplier Certification just earlier this year.
Last year, we attended the WBEC-West 12th Annual Procurement Conference, which was our first conference with WBEC-West. It was a rewarding experience that offered us the invaluable opportunity to present our company capabilities, forge new relationships with other professional women, as well as strengthen our relationships with existing partners and clients.
This year, the 13th Annual Procurement Conference will continue its past 12 years of success by including a silent auction, various workshops, a WBE2WBE Connect, among other exciting programs we cannot wait to participate in. It will be another wonderful opportunity to connect with other WBEs, community and corporate partners, and government entities.
As a Platinum Supplier graduate from 2016, Integritas will be conducting a 90 second presentation about our company's services at the Platinum Supplier Vendor Showcase, for an audience of corporate procurement agents from Chevron, Wells Fargo, IBM, and many more. We are beyond excited to be a part of this three-day event that will be taking place at The M Resort Spa Casino in Las Vegas, Nevada.
Winners of the Supplier of the Year Award will be announced at the Awards Gala on September 9, 2016, so stay tuned to find out the list of this year's winners!